Professional Carpet Cleaning in Sugar Land
Good carpet cleaning in Sugar Land is not easy to find. You need to find an established company, with trained and skilled staff, using only top grade equipment, and the right cleaning agents and detergents. Well, you've found the right company. Carpet Cleaning Houston is here to provide all your cleaning needs and requirements, and provide you with a great experience that'll leave you with a fresh and clean carpet.
For a
Free Estimate
call us at:
The two primary methods for carpet cleaning are dry carpet cleaning, and hot water extraction. Each can achieve great cleaning results for your carpets. However, each carpet cleaning method also has its advantages and disadvantages. Which cleaning method should you choose? It really depends on your needs. Read more below.
Dry Carpet Cleaning in Sugar Land
Dry carpet cleaning utilizes chemical cleaning solutions to extract dirt. There are two main dry-cleaning methods:
Dry Foam: A shampoo is applied to your carpet using rotary brushes, which agitate the pile and break the soil and dirt. The brushes and foam makes the dirt and soil surface, which allows extraction out of the carpet. Then, the carpet is allowed to dry followed by vacuuming which brings more dirt out with it.
Dry Compound Carpet Cleaning: First, you pre-spray the carpet with a preconditioning spray for carpets. Then, a dusty chemical is sprayed or sprinkled on the carpet area to be cleaned. To finish the cleaning, a VLM (Vertical Lift Machine) cleaning machine is used to extract the dry cleaning compound and the dirt from the carpets.
Both methods of dry carpet cleaning are very effective, at the hands of an experienced carpet cleaner. However, in most cases they will not be required, and that is why most cleaners use the wet carpet cleaning method, also called Hot Water Extraction.
Hot Water Extraction - wet carpet cleaning
hot water extraction is the most common carpet cleaning method. Also known as steam carpet cleaning, or wet carpet cleaning. This method uses hot watr which are forced with high pressure into the carpets, along with cleaning solutions, and then extracted with any soil, dirt and other foreign particles.
Portable Hot Water Extraction Carpet Cleaning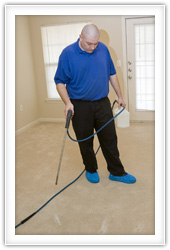 The hot water extraction is done with a small machine which connects to home tap water and electricity. The main advantage is that this machine can reach anywhere, and be carried through steps, elevators and large spaces. There are some rental portable cleaning machines, but they do not compare in strength and capability to professional portable hot water extraction cleaning machines.
Truck Mounted Hot Water Extraction Carpet Cleaning
This machine is mounted on a truck or van, and has its own water supply as well as engine to power it. The truck mounted cleaning machine heats water by engine and not by electricity which creates more pressure and strength than portable machines. However, they're not always the best choice.
Many carpet-cleaning professionals believe this is the most effective way to clean. Since the heat is stronger as well as the pressure, it's easier to clean using a truck mount. Another advantage is drying time - their extraction power is shorter, removes more water from the carpets and shortens the drying time. All advantages aside, it's also easier to create damage if the cleaning technician doesn't know how to use this powerful machine.
Carpet Cleaning Houston also offers special repair services as well as other cleaning services using top grade equipment.
Free Carpet Cleaning Tips from our experts in Sugar Land
Other services we provide at Carpet Cleaning Houston:
Rug Cleaning in Sugar Land || Upholstery Cleaning in Sugar Land || Tile & Grout Cleaning in Sugar Land || Air Duct and Dryer Vent Cleaning in Sugar Land