Water Damage Restoration in Houston
The Water Damage Restoration Department of Carpet Cleaning Houston specializes in water damage restoration, mold remediation and water damage mitigation. Water damage is aggravating and it can be a serious problem, but Carpet Cleaning Houston is fully equipped to handle any kind of emergency including water damage due to a flood, hurricane, broken pipe, washing machine malfunction, etc. Our technicians will be there promptly to fix the damage and we will address any concerns that you have.
At Carpet Cleaning Houston we have the technology and state-of-the-art equipment, and our technicians are courteous, certified, trained and experienced in advanced methods when handling these kinds of emergencies. We know it all when it comes to fire & water damage restoration.
Water Damage in Houston - Course of Action
Our technicians will start with an inspection to the affected areas using the special tools that will allow us to see how much water needs to be extracted, and the extent of the damage.
We have special water extraction equipment, which is powerful enough to handle any kind of flood damage. Flood damage is a serious thing and it should be handled by a professional water damage restoration expert. The water & fire damage, mold and mildew will be completely removed once our technicians are done with your premises.
We will provide you with a deep cleaning, and we will disinfect the area completely with our innovative cleaning solutions, which are effective and one-of-a-kind. We have special equipment for the structural drying process, which will help you restore your water damaged items to their original condition.
Water Damage Types
There are three types of water that can damage your carpet and each type needs to be dealt with differently. There is sanitary water, unsanitary water, and black water. Sanitary water is clean water that can come from rain or water pipes.
The second type of water is unsanitary water, which comes from toilets and other sources that may be slightly contaminated. When this type of water makes its way to your carpet, it should be cleaned thoroughly with the appropriate carpet cleaners and then dried.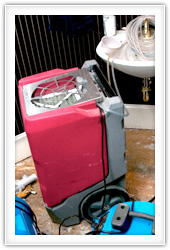 Proper precautions need to be taken when dealing with this type of water including wearing gloves, boots, and goggles.
The third type is black water. This water contains raw sewage and any item that has come into contact with it needs to be thrown out right away. Professional water damage restoration services should be contacted in such situations to make the job easier for both sides.
Water damage emergencies need immediate attention, because you need to extract the water right away. This will ensure that you do not cause further damage, and it can save you the cost of getting new wood floors installed. It will also prevent the growth of mold and mildew.
You can expect fast service from our team. Call us for a free quote today to 713-344-0457. Carpet Cleaning Houston serves residential customers and businesses in the Houston area, and we guarantee that you will be more than happy with our water damage repair services.
Other services we provide at Carpet Cleaning Houston:
Carpet Cleaning in Houston || Rug Cleaning in Houston || Upholstery Cleaning in Houston || Tile & Grout Cleaning in Houston || Air Duct and Dryer Vent Cleaning in Houston