Refinishing Hardwood Floors in Houston
Wood floors require a thorough refinishing every few years to maintain their gleam and prevent ongoing damage. Depending on the amount of traffic on the hardwood floor, the refinishing may be required even annually. Hardwood refinishing is a process you can do yourself, but it's recommended that if you're not sure what you're doing - get the experts of hardwood refinishing to perform. Damaged wood floors from a refinishing gone wrong are much harder to repair than a simple refinishing due to traffic wear.
Wood Floor Refinishing Process
Many people try the do it yourself refinishing wood floors method, to save on the cost. However, in the end, with the cost of cleaning wood floors products and sanders, it often is just cheaper to go the professional route.
One reason you may choose to hire a local Houston cleaning service for refinishing hardwood floors is time. Refinishing wood floors process requires a lot more time than cleaning wood floors. After all, there is sanding, staining and sealing involved.
Carpet Cleaning Houston specializes in cleaning & refinishing hardwood floors throughout Harris County, Fort Bend County, Montgomery County, Brazoria County and more. First, we will perform sanding of the wood floors. Once all the old finish is removed, our specialists will use finer grit sandpaper for one final swipe.
Then we will move onto cleaning the hard wood floors, vacuuming up sawdust and washing the floor, before moving onto staining and sealing.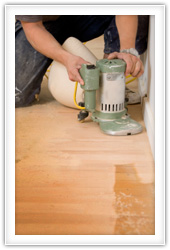 The cost of hardwood floor refinishing is always worth it in the end, when it look as good as new. Hardwood floors are very expensive, and it's better to maintain your wood floors well than having to replace them. Plus you will not have to spend your weekend doing it! Any problems you may have with your hardwood floor, from stubborn pet stains to uneven floor boards can be addressed by our local hardwood refinishing technicians in Houston.
Improper cleaning and refinishing will destroy the surface layer of your wood floors, causing them to dull, get scratched, and soak up liquids as well as staining the wood beneath it. However, with the right hardwood floor cleaner and cleaning techniques, you can prolong the life of your floors and keep them shiny and gleaming.
Wood floors require special care and maintenance to keep them in good shape. The knowledgeable staff of Carpet Cleaning Houston knows the best type of products to use, as well as has access to top of the line cleaning machines and equipment.
Other services we provide at Carpet Cleaning Houston:
Carpet Cleaning in Houston || Rug Cleaning in Houston || Upholstery Cleaning in Houston || Tile & Grout Cleaning in Houston || Air Duct and Dryer Vent Cleaning in Houston