Houston Rug Cleaning
Does your rug look dull? Do you even remember how it originally looked? Even if you believe it looks clean, it probably isn't really clean. Even if you don't step on the rug, dust is settling on and in the rug, making it lose its colors and good condition. If it's been over a year since the last cleaning, it's recommended to have your rug cleaned.
A good and thorough rug cleaning will restore your rug's splendor, making it look bright and colorful again, just like it was meant to be. The rug can be cleaned at your Houston home by our professional cleaners, or picked up to our rug facility for an even more meticulous cleaning process. It will be delivered back to your home, and pickup and delivery is free of charge!
At Carpet Cleaning Houston we specialize in the following services for rugs:
Rug Cleaning
Rug Repair / Rug Re-fringe
Rug Restoration
Rug Pet Stains and Odor Removal
Rug Hand Wash
Rug Antique Wash
Domestic or Hand Made Rugs Cleaning and Repair
RUG FREE PICK UP & DELIVERY
Our Rug Cleaning Methods:
We follow a thorough and precise process to clean rugs, making sure we clean them well, remove all the dust, dirt and soil, and keep the fibers and colors in pristine condition. Here is more information on rug cleaning at our facility:
The first step of rug cleaning is to break and extract dust as best as possible. In the past, a rug was beat by a rug beater, which eventually caused more damage than good to the rug. Today, vacuumed and compressed air are far more effective - both in removing the tons of dust in the fibers as well as keeping the fibers and rug composure intact.
For a
Free Estimate
on your rug cleaning call us at:
Before continuing the cleaning, we will test the rug for color bleeding. To prevent discoloration while the cleaning is done, a rug that a color bleeding issue will be sprayed with a color block to preserve the colors of the rug.
The next step is to submerge the rug in a pool of fresh water. The rug will be hand handled with natural cleaners, while fresh water rinse it through. The water will remove more dust and other particles, and make the fiber soft enough so they don't break during the next steps.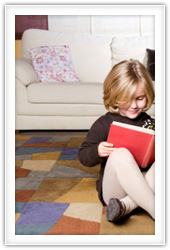 Odor removal is the next step to perform. In a decontamination bath, heavy rollers will go over the rug and release any particles left in it, as well as get rid of odors. When the bath is finished, the rug will be rinsed again with fresh water.
Rinsing the rug after every step is very important. Rinsing the rug with fresh water makes sure any residues (both dirt and cleaning agents) will be removed and distanced from the rug.
When the final rinse is finished, the rugs will be hung on rug drying racks. The racks are surrounded by fans, and climate control makes sure the drying process is done in the best conditions. When the rug is dry, we will work on the fringes and make sure everything is clean, fresh and to our satisfaction. In addition, the rug will be groomed to make the fibers look their best.
Finally, the rug will be rolled, wrapped and stored for delivery back to your Houston home. We will call you to schedule a delivery of the rug, and help you place it back to where it was.
Free Rug Cleaning Tips from our experts
Other services we provide at Carpet Cleaning Houston:
Carpet Cleaning in Houston || Upholstery Cleaning in Houston || Tile & Grout Cleaning in Houston || Air Duct and Dryer Vent Cleaning in Houston